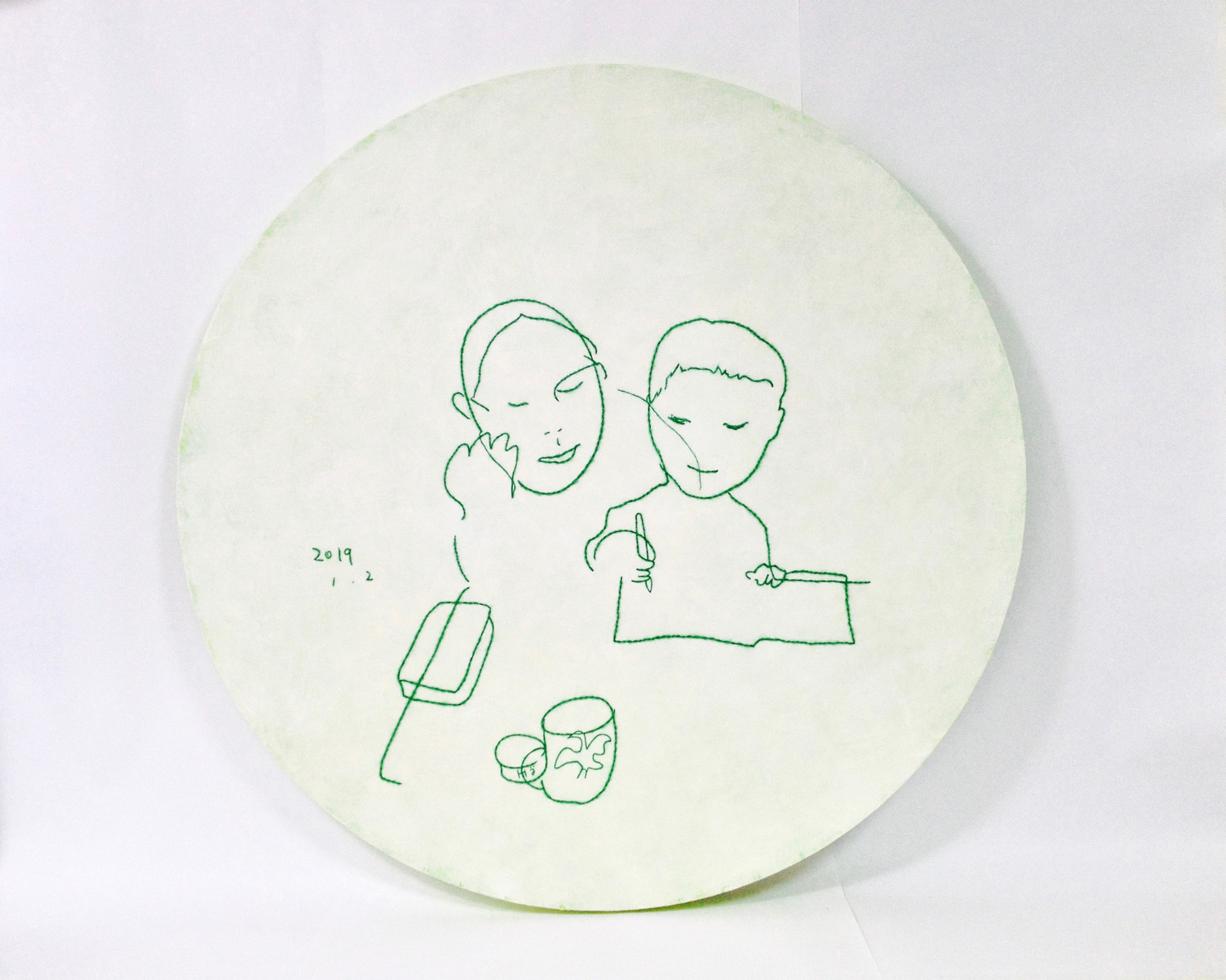 "   ON  MY  EARTH   "
2019,    wool,oil,canvas,panel, etc.    φ 72.7 cm
It's a brand-new work!
With yarn of wool 100%,
on the circle,
based on the drawing in my diary.
Yes, as you think, the models are my wife and my 5-year-old son.
He drew to be able to grip his pencil and was drawing or writing something joyfully.
There are my mug underglaze painted by his granPa
and my empty cup of the ice cream given by his granMa in front.
I attached the unchanged date of the diary there.
This is the scene of the New Year season.
The finish of this work was July.
In the meantime, our nearby park was ablaze with the white clovers.
So I lay the impression on the background with the oil colors.
Whom " MY " in the title refers to?
It's the artist himself? or The lady in the work?
Or it may be us the people who's watching this work.
" MY EARTH " is good phrase, isn't it?
I'm genius? .....Non, non,
It's inspired by Yasuo KAZUKI's art book " ' My ' earth ".
He must have loved everything on his eyes.
I respect him though he was gone before I was born.
" ON NY EARTH "
I want to tell this pease to the world.
You might feel I'm simply doting my family too much.
Whichever is truth, I'm happy if would you feel something.
Now
you can see this work at YUKARI ART MINI, Nakameguro, Tokyo!
Here we go~
Tokyu Toyoko Line / Tokyo Metro Hibiya Line ' Nakameguro ' station
South gates > West exit2 > Few minutes > WIN BLDG 1F