Yui FUJINAGA Online exhibition
February 1 thru March 19,2013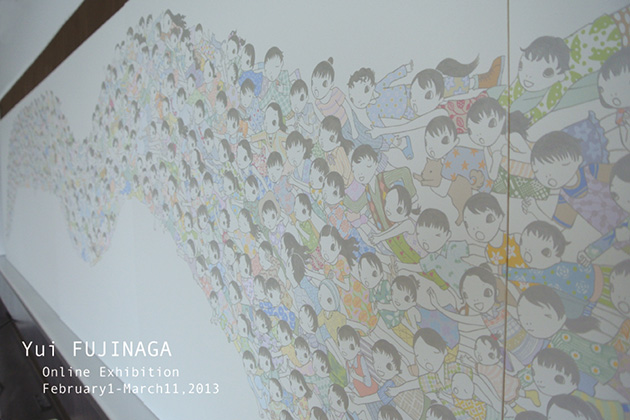 Please enjoy online exhibition by Yui FUJINAGA who received a great reputation in ART OSAKA last year.You can now see the actual work at the entrance hall of the office building in Futako tamagawa RISE shopping center.For details,please kindly click here.
===
overall view of "TODOKUYO 〜reaching for you〜", 2011-2012
about 4M long (72.7cm×436.2cm,6 panels altogteher)
===
A message from the artist:
It was right after devastating Tohoku Region Pacific Coast Earthquake on March 11,2011 when I started to work on this painting.
I at first was painting the picture to hope that all children lost in Tsunami will come back from the sky.
This work consists of 5 panels and was painted from the left side.If you look at the first part of the paining,you can find children who are staring at the ground from the sky ,or seem very much worried about being alone.I was actually praying for those kids when painting the first ones.
In the middle of the painting,I painted children by imagining about warm bright sunlight on cold days,cherry blossoms in the Spring,or life before birth.Kids in this part are enjoying what they like and feeling OK for being alone.
In the last part,I was actually able to enjoy the activity to "paint" itself.
You can find many kids who are having great fans,playing vigorously and shaking hands.
I believe I could heal myself by painting the picture.I was lucky enough that I could paint.
Although this painting was originally started from my sad feeling,I am now hoping that viewers will feel better ,strong and stable by my work as I healed myself.

===
Other works and bio of the artist: YUI FUJINAGA
※If you have any inquiries on these works, please contact us.