NHK World's TV program "Face To Face " is featuring Yodogawa Technique!
This program will be on air about 160 countries on January 27, 2019 from 10:10am (In Japan time) and repeated for 4 times.
You can also view this via internet and video on demand.
Please click the link for details : How to watch NHK World
★NHK World "Face To Face"
Yodogawa Technique
"Infusing life into trashes"
Our guest is Yodogawa Technique, an artist who transforms trash and flotsam into stunning collages. He travels worldwide, interacting with local communities to create thought-provoking works. In the Maldives he formed a huge fish with the plastic bottles that are endangering its coral reefs. In memory of all that was swept away by the devastating tsunami of 2011, he created a "Wakabayashi 100 Years Swing" using what was left of the windbreak forests. His work has been featured in school textbooks to inspire eco-awareness.
About the program :Face To Face is a monthly talk show with the people making a difference in Japanese society today. The show's host is Robert Campbell, who is an expert in Japanese literature and culture.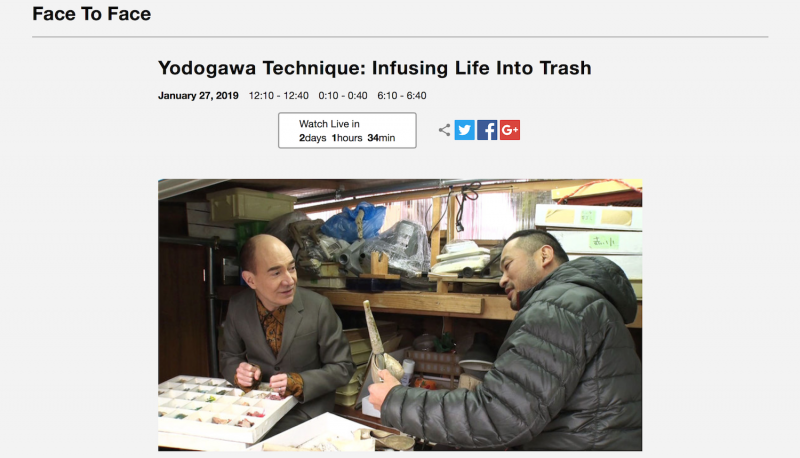 Image:from NHK World "Face To Face" official HP