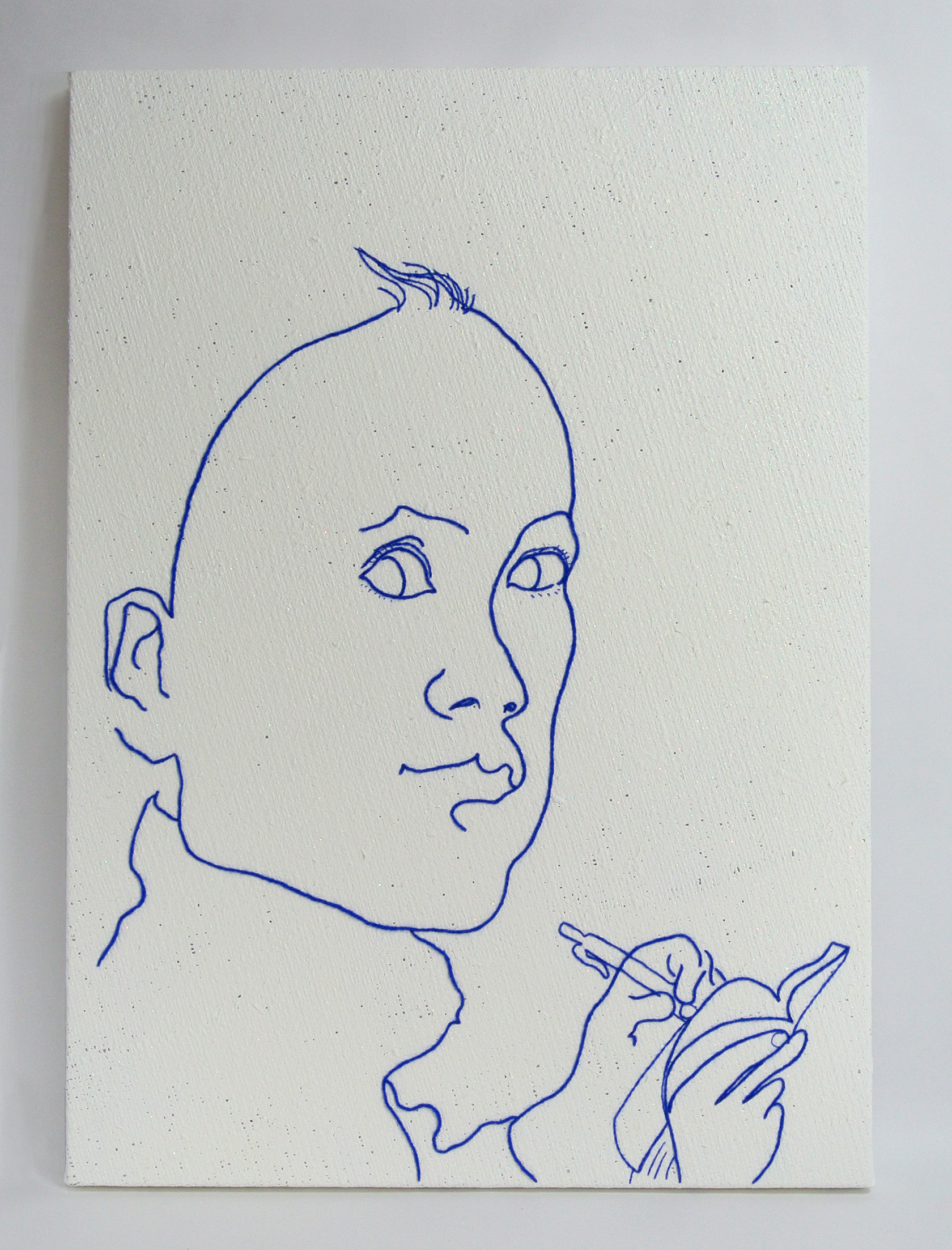 " NO DOUBT ! "
2019,    wool, acrylic, hemp, aluminum foil, panel, etc.    80.3 x 57.4 cm
Diary date: Jun.4, 2017
Yes, this is  my self- portrait.
I drew the original drawing of this work in the morning of my 40th birthday.
The background is white. Emotional white. It was made after many processes.
Stretching a coarse hemp cloth on another larger frame,
Sealing, ground coating, coloring, and cutting it bias.
Then, stretching it on the frame again.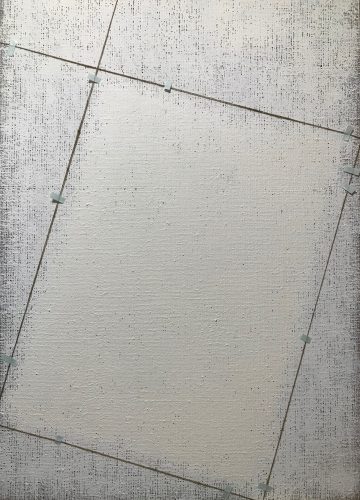 Aluminum foil crumpled up once and postponed carefully is hiding under the layer of the whited cloth.
Characteristic gray or silver appears from holes of the coarse cloth.
Besides, this canvas is painted with lamé. So the portrait of a man of 40 glitters.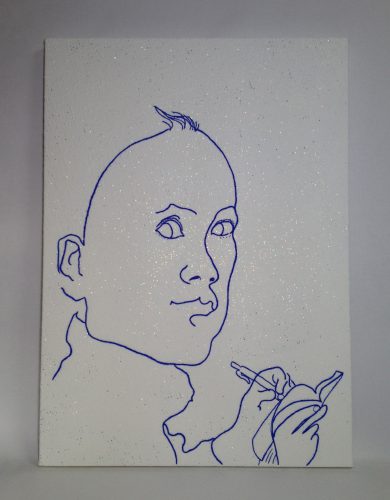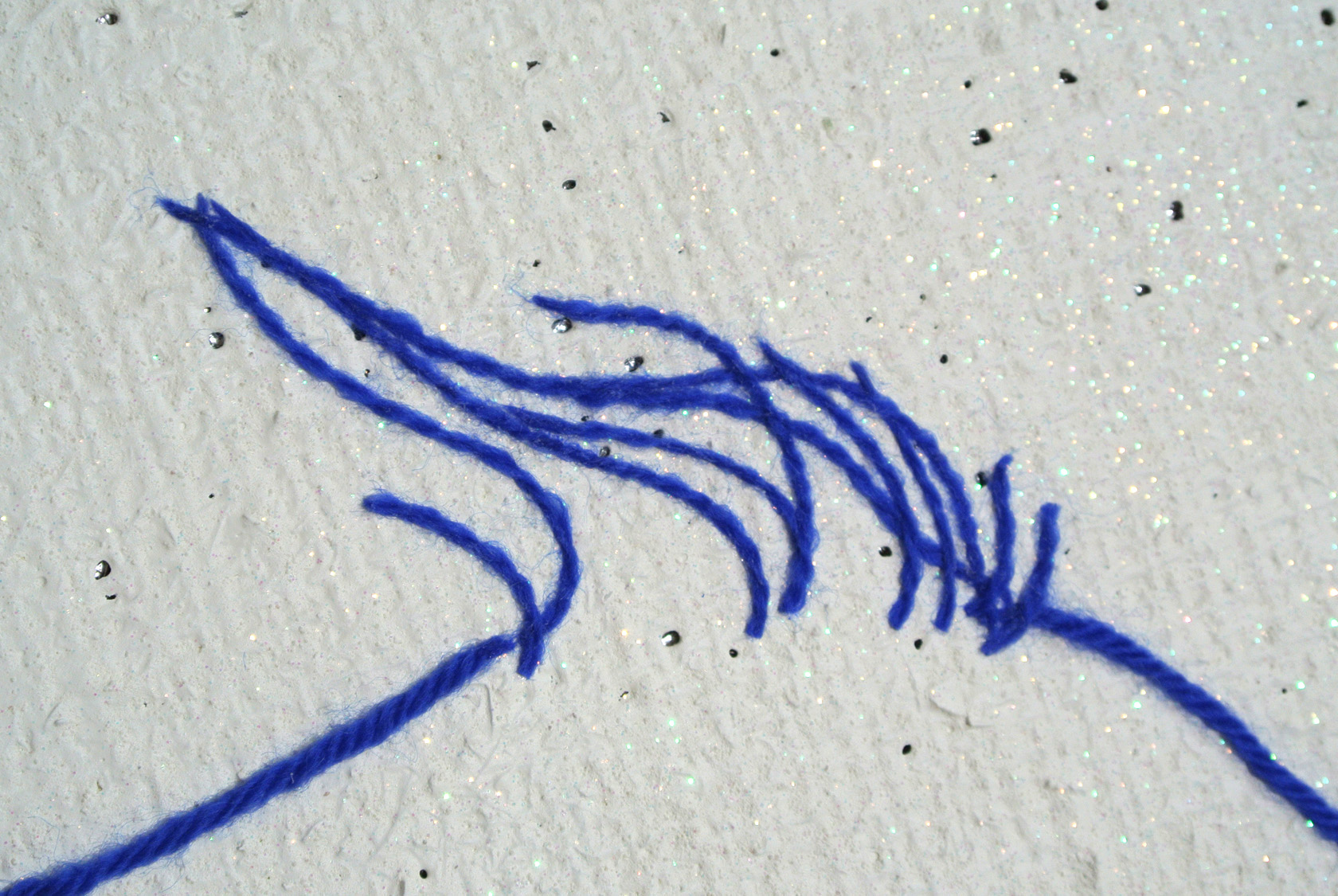 The title " NO DOUBT ! " references to my way of life as an artist living with his family.
Once upon a time there was the Buddhist priest Saigyo-san who wrote a very beautiful 31-syllable Japanese poem.
He had been an elite noble, but  became a priest to live in the world of the beauty. Even though his son was crying and clinging.
Each person has various decision on each life.
I'd thought ' my life is mine '.
But I found it was wrong when my baby was born.
That means not grief or resignation but realization and challenge.
" I am a father ! And I do draw !  "
This is my determination expression.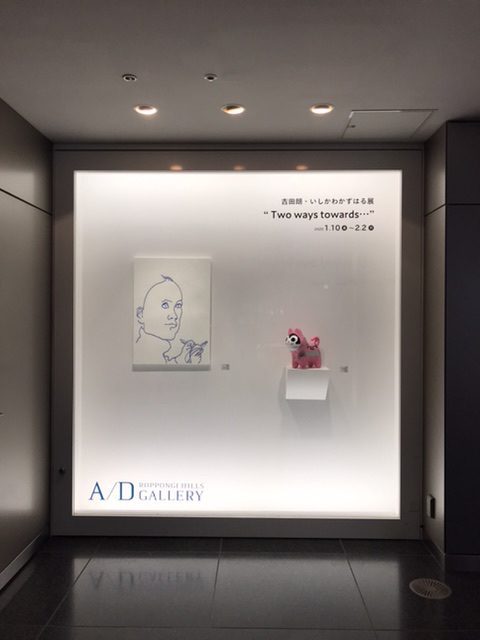 If you come up to 3F with escalator, my face appears gradually.
It faces to "  Inu Hariko JPNSDF Pink " of YOSHIDA Akira.
We can say ISHIKAWA Kazuharu's works are authentic record & actual proof of the peace,
YOSHIDA Akira's are embodiment of the true identity of the peace of Japan.
Though interpreting the works while connecting two contexts might be denying each other, somehow their coexistence is established.
Rather they resonating. The exhibition " Two ways towards... "  has such wonder.
Wow, today is the last day !
Don't miss it !
Jan.10 - Feb.2, 2020,  everyday 12:00 ~ 20:00